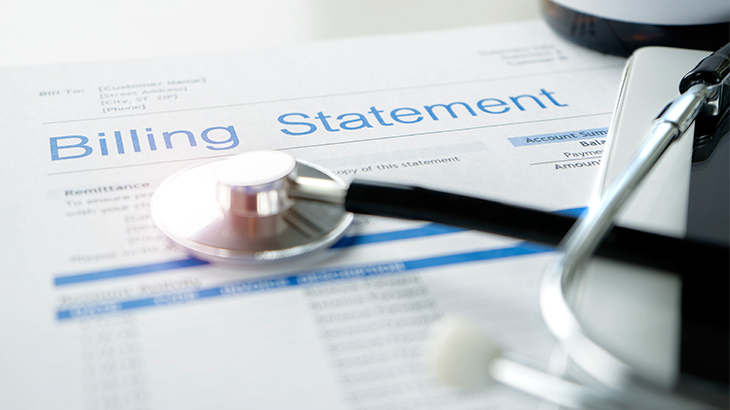 Our team in the Rome Health Business Office is available to help you when you have questions regarding your hospital bill or need assistance with obtaining a price estimate.
Our main office number is (315) 338-7075.
Hospital Price Estimation
Healthcare today can be confusing and complicated. We want to make it as easy as possible for you to navigate the healthcare system including informing you about the price of the medical services we provide.
To obtain information regarding the hospital price of services or procedures, please click the link to use:
Price Estimator Tool
Price Estimator Tool Guide
The price for any procedure is complex and includes many variables that are determined by a specific patient's needs. Your out-of-pocket costs will depend upon your insurance plan and any discounts that you may be eligible to receive.
This pricing does not include physician or other professional provider charges.
Other physician or professional charges that may be encountered during a hospital visit include separate bills from
Emergency Room Physicians (TeamHealth)
Radiologists (Radiology Associates)
Anesthesiologists (Premier Anesthesia)
Hospitalists (St. Joseph's Health)
Other Providers
If you have questions or need an estimate for services you wish to schedule with Rome Health please call (315) 338-7075 Monday through Friday 8 a.m. to 4 p.m. (excluding holidays).
Your Rights and Protections Against Surprise Medical Bills
Rome Health is committed to helping you avoid surprises in your medical bills. Click here for YOUR RIGHTS AND PROTECTIONS AGAINST SURPRISE MEDICAL BILLS. This notice is provided to you as required by the federal No Surprises Act.
Rome Health Charge Description Master (CDM)
The Charge Description Master (CDM), or charge master, is a comprehensive listing of items that could be billed to a patient, payor, or healthcare provider by the hospital.
The charges listed in the charge master DO NOT reflect the average out-of-pocket or cash price that a patient will pay.
Our staff members in the Business Office are available to assist you with obtaining an accurate estimate based on your individual service and financial situation.
The charge amounts are the standard fees set for services rendered before any negotiated discounts.
There are a number of discounts to the charge amounts listed that may apply.

Insured individuals have contracted rates through their insurance companies

Uninsured individuals are offered percentage discounts off of the standards charges

Both insured and uninsured individuals may be eligible for additional discounts through our generous Financial Assistance Program
Please contact the Business Office at (315) 338-7075 Monday through Friday 8 a.m. to 4 p.m. (excluding holidays) who will assist you in taking advantage of any discounts that you qualify to receive.
Rome Health also employs Certified Application Counselors that can assist you with enrolling for health insurance through the New York State Market Place. To schedule a confidential appointment, please call (315) 356-7723 or (315) 356-7724.
The information contained in the charge master is being provided in compliance with the Centers for Medicare and Medicaid Services (CMS) requirement for hospitals to post a list of their standard charges online in a machine-readable format.
By clicking to download this information you agree you have read and understand the following:
i. The information contained in the file is current as of the last upload. Charge information is subject to periodic changes and the file will be updated as soon as practically possible to reflect such changes
ii. The file contains both the charge amount and the charge description of the item or service as reflected in the hospital's charge master (CDM)
iii. A charge represents the dollar amount assigned to specific medical services before application of any negotiated discounts to third-party payers. The actual hospital charges will vary based on the type of care provided, treatments, individual health conditions and other factors.
Our staff members in the Business Office are available to assist you with obtaining an accurate estimate based on your individual service and financial situation. Please call (315) 338-7075.
PLEASE NOTE THESE CHARGES do not include fees from your surgeon, anesthesiologist or other professional services billed by the physician AND OTHER PROFESSIONAL PROVIDERS. Typically, you will be billed separately for these professional services.
iv. Following the CMS guidelines, the information in this file represents the hospitals current standard charges as reflected in the CDM. However, it is important to understand that the information represented in the CDM is the starting point in many cases and can undergo additional adjustments through the billing process, therefore, please be aware:
a)The charge shown is the original charge for the item or service prior to any adjustments that result from applying modifiers in certain situations.
b)The CDM is used in multiple hospital departments and may have different charges for the same item or service and such instances will repeat in the file. For a single charge master item, the charge is consistent; however, there may be slight variation in charges for services with similar descriptions for various reasons .
c)Charges for certain items or services are based on per unit, such as – including but not limited to – surgeries, anesthesia, and recovery which can be based on the unit of time and complexity; medications, drugs which can be based on weight-based dosage, age or packaging; etc.
d)Certain items and or services have a zero dollar price in the CDM for a variety of reasons – contracted billing services that drop charges externally, no cost supplies, Investigational device or medication exemption items in clinical trials and studies, replacement for a recalled or defective device, explode codes and other system limitations. Such items and services will appear with zero dollar and is not reflective of the actual charge. In addition, items and or services are sometimes assigned a one penny price to reflect, for example, a state provided medication or drug, contrast items, therapy status codes used for CMS reporting, etc. and is not reflective of the actual charge contained outside of the charge master.
e)The file may also contain CDM items for non-charges (such as payments, allowances, transactions, etc.).
v.The file is large and download may take excessive time depending on your internet speed
Download the Rome Health Charge Description Master (CDM)
Other Resources
The Patient Protection and Affordable Care Act requires all hospitals to annually publish information on how to access hospital pricing information. The links below serve as a guide to those services, charges, and reimbursement for Rome Health based on data compiled from the Centers for Medicare Services and the New York State Department of Health.
New York State Department of Health & Centers for Medicare Services Comparison Data