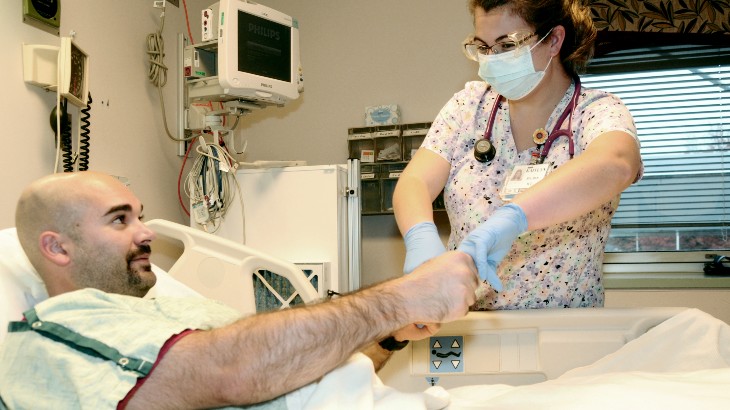 Hands that Comfort, Hearts that Care
Your physician makes the diagnosis and prescribes the treatment plan, but it's the nursing staff that carries out your doctor's orders and watches over you to make sure you are getting well.
Each nursing unit at Rome Health has a dedicated team committed to its role in your recovery process. When you are experiencing a life-threatening emergency, a serious illness or you need surgery, our compassionate nurses are at the front line helping to speed your recovery.
Each department in the hospital has a dedicated staff and resources to provide the quality care that you need. The nurses strive to improve upon patient satisfaction and clinical outcomes through continuous quality improvement programs. Their commitment is taking care of you.
Our Acute Care Units

Intensive Care Unit: Because of the intensive observation required in the Intensive Care Unit, it has the highest nurse-to-patient ratio at Rome Health with one nurse assigned to every two patients. ICU staff cares for both medical and surgical cases in which patients have life-threatening conditions. This includes isolation patients and patients on ventilators who require constant care and observation.

Medical/Surgical Acute Care Units: Patients hospitalized for medical conditions, such as pneumonia, congestive heart failure, stroke, or a surgical procedure, such as a total hip replacement or spinal surgery are cared for on one of our two medical/surgical units on the second floor of the hospital. Both departments have the ability to perform cardiac monitoring.

Maternity: Our maternity nurses help moms welcome their babies to the world in our cozy birthing suites located on the fourth floor. Specially trained in obstetrics, they work collaboratively with the physician to help the expectant parents through the process of labor and recovery.

Senior Behavioral Health Care: Nurses in the secured Senior Behavioral Health Unit are specially trained to provide care to older adults in crisis. They work collaboratively with a multi-disciplinary team of medical and mental health professionals to help stabilize patients experiencing severe depression or other psychiatric disorders.
Our Surgical Department

Ambulatory Surgery: Although patients only spend a few hours in the Ambulatory Surgery Department, the nursing team is quick to build their patients' trust as they help them prepare for surgery and welcome them back when the procedure is complete. After surgery, they monitor their patients' pain level and vital signs until it is safe for them to be discharged home.

Operating Room: A highly skilled nursing team works in conjunction with members of the medical staff to provide surgical procedures in the areas of general surgery, orthopedics, thoracic, urology, ophthalmology, gynecology, obstetrics (c-sections), otolaryngology, podiatry and oral surgery. In addition to supporting scheduled surgeries, the team is ready to respond when patients arrive in the Emergency Department in need of emergency surgery.

Post Anesthesia Care Unit: Specially trained professional staff manage patients' recovery in the first critical hour after surgery. PACU nurses care for both children and adults to maintain their comfort and safety as they recover from anesthesia after a wide range of surgical procedures. The staff establishes and maintains rapport and communication with the patient and family, before, during and after surgery.