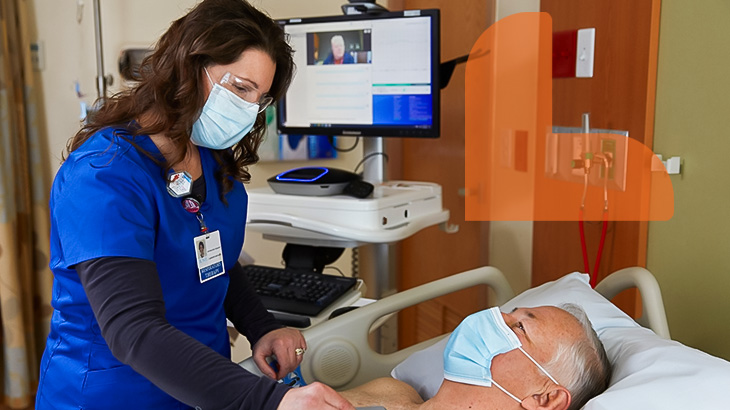 Dorothy G. Griffin Cardiovascular Center
Access to the top cardiology specialists and physicians is right here at Rome. No need to delay seeking treatment to stave off the long drive. The Dorothy G. Griffin Cardiovascular Center houses cardiology, cardiac testing and pulmonary services under 1 roof. We've got your heart health covered.
The Best Cardiovascular Care
All of our patients have access to the award-winning and nationally recognized St. Joseph's Health Cardiovascular Institute, which has an office conveniently located in the Dorothy G. Griffin Cardiovascular Center. Appointments may be made by calling (315) 338-7220.

Access to the top cardiologists, cardiac surgeons, heart disease experts and vascular specialists in the region — as well as the latest technology and treatment — are all available to the Rome community.
State of the Art Diagnostic Cardiac Testing

The Cardiopulmonary Services Department provides diagnostic services designed to quickly and comfortably identify heart and lung problems, so that appropriate treatment can begin as soon as possible. 
Outpatient testing is conveniently available in the Dorothy G. Griffin Cardiovascular Center, which provides a warm environment to help you relax when you need testing.  Parking is easily accessible from Oak Street. Look for the Bartlett entrance under the canopy and follow the signs to our convenient registration area on the ground floor.
Our outpatient testing and treatment services include:

Cardiac Testing
Electrocardiogram (ECG)
Holter monitoring
Echocardiograms
Cardiac Stress Testing

Pulmonary Services
Pulmonary Function Testing
Arterial Blood Gas Analysis

Neurological Testing
EEG (Electroencephalography)

Whether you are in the hospital or visiting our Cardiovascular Center, you will receive care from a team of professionals who utilize evidence-based protocols to deliver the best possible care. Our team is also committed to their role as educators to help you reduce your risk factors and better understand your disease to help you improve your quality of life.
St. Joseph's Health Cardiology
1500 N. James St. Rome, NY 13440