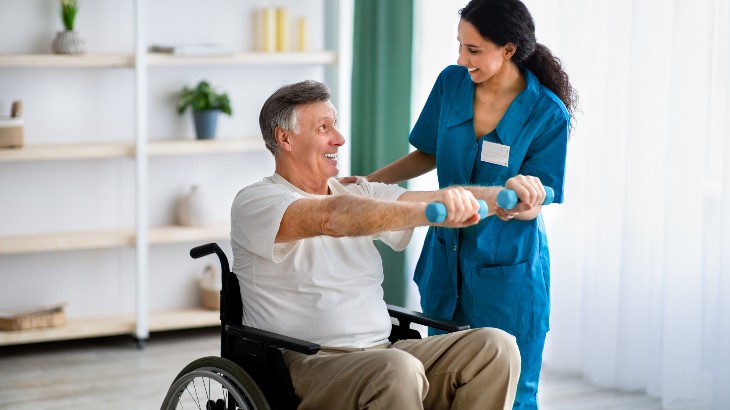 Short-term rehabilitation can help speed the recovery process for many patients who have had surgery or an extended hospital stay. Short-term rehabilitation can help you get back to your regular routine by rebuilding your strength, retraining your body, or helping you regain your speech.
Rome Health's Residential Health Care Facility is among the top 20% of U.S. skilled nursing facilities that have been recognized for 4 consecutive years as a Best Nursing Home by US News and World Report. The home earned Best Nursing Homes status by achieving a rating of "High Performing," the highest possible rating, for short-term rehabilitation.
Our treatment plans are individualized to help our patients set and meet realistic goals. Most individuals require a combination of physical, occupational and speech/swallowing therapy, along with skilled nursing care. Patients may receive up to two hours of therapy, 5-6 times a week.
The short term rehabilitation team includes physicians, nurses, physical therapists, occupational therapists, speech language pathologists, dietitians, pharmacists, social workers, activities professionals and the admission/discharge coordinator. Family members may also be involved in your care or other individuals you choose.
Short term rehabilitation services are reimbursable through Medicare and most private insurance carriers with a referral from your primary care physician with pre-approval.
Because of the RHCF's reputation for quality, eligible Medicare beneficiaries who are part of an accountable care organization are able to access the RHCF without the usual three-day hospital stay when they need short-term rehabilitation.
Patients Served
Short-term Rehabilitation serves adult and geriatric patients in need of physical, occupational and/or speech therapy. Short-term rehabilitation is well suited for individuals recovering from orthopedic conditions. The program is available to patients who are recovering from conditions such as:
Total Joint Replacement
Hip Fracture
Heart Attack
Stroke
Pneumonia
Congestive Heart Failure
Restorative Therapy Programs Provide Therapy up to Six Days a Week:

Occupational Therapy promotes independence with activities of daily living, optimizes your function with homemaking skills and adapts your environment to achieve your highest level of function.

Physical Therapy promotes independence with ambulation, functional transfers and stair negotiation through fall prevention, balance retraining and strengthening programs.

Speech Therapy addresses speech, language, and cognitive difficulties to improve communication. Speech language pathologists are also able to evaluate and treat swallowing problems that may result from physical or neurological impairment.
Interdisciplinary team approach provides client centered care tailored to each individual to ensure you reach your highest potential and return home safely. Therapy services include patient and family education, discharge planning and when necessary, home evaluations to assess the need for modifications to the home for a safer return.
Getting you Home is our #1 Goal
Short-Term Rehabilitation will help you:
Get back to the things you enjoy
Regain your strength, endurance and independence
Complete daily activities
Retrain your body to cope with any limitations
Understand any new medications
Regain speech and improve cognition
Arrange and plan for home support services
Learn exercises you will continue when you return home
Get answers to your healthcare questions
Set and meet realistic goals
For more information, please call (315) 338-7305.
Short-term Rehabilitation
1500 N. James St. Rome, NY 13440