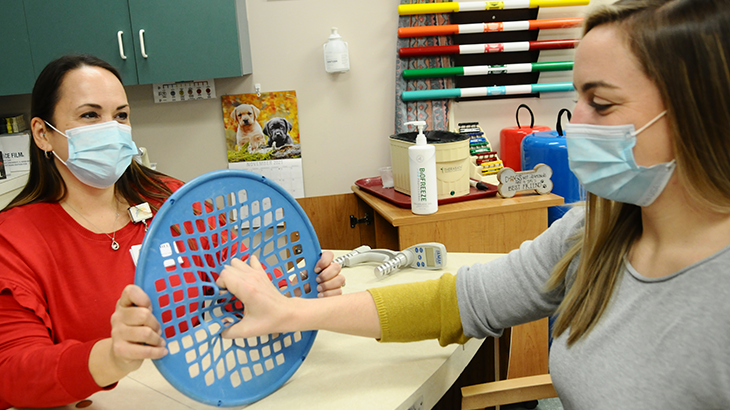 Our goal is to help you meet your goals
Located at 107 E. Chestnut St., Rome Health Outpatient Rehabilitation Services is one of the largest outpatient rehabilitation centers in the area.
Utilizing a broad range of physical, occupational, and speech therapies to help your body heal after an injury or illness, our goal is to reduce your pain, and rebuild your strength and mobility so that you may return to your normal activities.
You will establish a partnership and receive one-on-one care with a highly skilled and dedicated therapist. Our team includes New York State licensed physical therapists, physical therapist assistants, occupational therapists and speech language pathologists.
With over 6,000 square feet, the modern facility is equipped with approximately 20 strength-training machines and therapeutic devices.
At Rome Health Outpatient Rehabilitation Services, our caring staff all share the common goal of getting you back to doing the things you enjoy as quickly as possible.
Individualized therapy programs are based on your needs, including:
Treatment for athletic injuries
Treatment for post-operative patients
Relief from back and neck pain, including disc herniation and sciatica
Treatment for work injuries
Treatment for muscle injuries and pain
Intervention for complex hand injuries
Treatment for arthritis
Treatment for traumatic injuries
Retraining of joints and muscles after a nerve injury
Adaption to prosthetic devices
Enhancement of mobility and independent living for neurological conditions
Tools to master daily living
Pediatric orthopedic conditions such as infant torticollis
Physical Therapy
Based on your diagnosis and physician's orders, we start with a thorough evaluation to develop your individualized treatment plan and discuss your personal goals.
Some of the therapies offered include:
Sports injury rehab
Total joint rehab program
Therapeutic exercises
McKenzie Method for neck and back pain
Therapeutic modalities
LSVT-BIG for Parkinson's and other neurological disorders
Occupational Therapy
Your occupational therapy begins with a comprehensive evaluation to determine your current level of occupational functioning.
Occupational therapy addresses dysfunction due to deficits in movement, sensation, cognition and emotional components of performance.
Types of occupational therapy include:
Hand therapy
Upper extremity injury treatment
Activities of daily living
Adaptive equipment
Assistive technology
Functional activities
Limitations in range of motion
Speech Therapy
Rome Health's Speech Therapy Department assesses and treats:
Speech/voice disorders
Cognitive deficits
Swallowing dysfunction
Pediatric speech, feeding, swallowing and voice disorders
Vestibular Rehabilitation
Vestibular Rehabilitation is a scientifically based treatment for persistent dizziness, vertigo and postural instability. These problems can be caused by peripheral vestibular system (inner ear) problems or central nervous system injury. The physical therapist will evaluate the patient to determine the impairment and then design a program of exercises and activities to decrease dizziness symptoms.
Treatments may include:
Therapeutic exercise
Manual therapy
Neuromuscular reeducation
Gait training
For more information, contact:
Rome Health Outpatient Rehabilitation Services
 107 E. Chestnut St. Rome, NY 13440
We participate with most insurance plans, including Medicaid, Medicare, Tricare and Workers' Compensation.