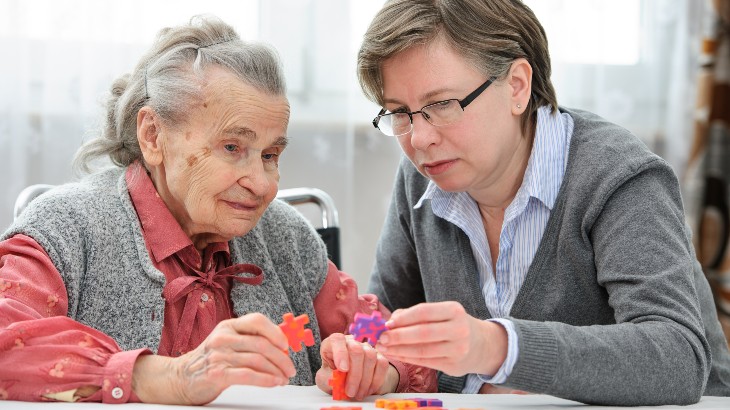 Help for You and Your Loved Ones
Being a caregiver also means taking care of you. It is comforting to know there is a safe and comfortable place where your loved one can stay and enjoy compassionate care from trained medical professionals while you take some time for yourself.
Rome Health's Residential Healthcare Facility offers Respite Care. Your loved one can join us for a short-term stay, from 7 - 42 days, while you take a much-needed break.
Respite Care guests can enjoy bright, home-like rooms, complete with cable TV and other amenities. Your family member can benefit from the same services offered to our long-term care residents. Respite Care guests participate in a number of stimulating activities, enjoy three meals a day in their own room or with others in our attractive dining room and have the assistance of our caring nursing staff.
Respite Care can cost less than hiring a private nurse. Medicaid, some third-party insurers of self-pay are accepted. Our daily rate of $320 is one of the lowest in the region and includes home like rooms, cable television, activities, three meals a day, and 24-hour care from a team who has set the standard in delivering exceptional care.
For Your Peace of Mind
What better place to entrust the care of your family member than a full-service hospital. Rome Health offers a full spectrum of medical services and experienced medical professionals around-the-clock. Should the need arise, all of our diagnostic services, such as laboratory, medical imaging and respiratory therapy, are available 24 hours a day.
Be Our Guest
Although our Respite Care guests join us for only a brief time, we make every effort to ensure that their stay requires as little disruption in their daily schedule and habits as possible. Our goal is to make their stay comfortable and you are assured their care is "just like home."
Guests are welcome to bring along personal items to provide a familiar atmosphere. This might include photographs of loved ones or any recreational activities they enjoy, such as books, puzzles, or crafts.
Our dedicated Activities Department is always planning interesting and fun activities for our residents to participate in if they wish. This includes prayer services, musical entertainment, and happy hour.
In general, all the services available to our residents are available for our Respite Care guests.
Arrangements for respite care can be made by calling the Admissions Coordinator at (315) 338-7305.
Respite Care
1500 N. James St. Rome, NY 13440