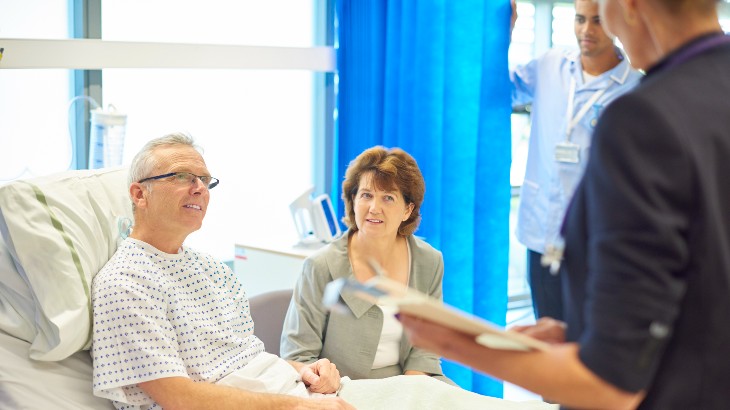 Rome Health provides compassionate, connected care that recognizes the unique needs of our patients at every stage of life.
Your Care Plan
Patients often have questions about their specific diagnosis, tests and treatments. We will follow the plan of care prescribed by your doctor. Upon your admission, we will review your plan of care with you. It will explain your diagnosis, any tests and treatments that may be necessary, any specific physician orders, and any discharge issues.
As part of your care plan, we may need to awaken you when you are sleeping to evaluate your current condition or to deliver care. We will make every attempt to keep such interruptions to a minimum. Understanding the care plan helps our patients feel more at ease. We encourage you to ask questions so we can better address any concerns that you may have.
When Will Your Doctor See You?
Your nurse will ensure that your doctor is aware of any medical concerns that may arise any time of the day or night. Test results are made available to your doctor so he/she can monitor your condition. In addition, your doctor or his/her trusted associate (such as a nurse practitioner, physician's assistant, hospitalist or covering physician) will come in to see you at least once every 24 hours to check on your progress.
The time doctors make their hospital rounds varies depending upon the number of patients that they have in the hospital and their regular office hours. If your doctor or his/her associate has not been in to see you within the last 24 hours, please let your nurse know.
We know that you are likely to have many questions during your hospital stay. Yet, it is easy to forget one or two. We encourage you to jot down your questions as they come to mind to get the answers you need. Make a note to ask your doctor for the approximate time of his/her next visit.
What is a Hospitalist?
Hospitalists are physicians who specialize in caring for hospitalized patients. Your personal physician may entrust your care into the hands of a hospitalist during your hospital stay. Hospitalists are able to recognize and react quickly to any sudden changes as they occur because of their expertise and availability. They don't have an office practice, so they can spend their time at the hospital monitoring their patients' progress.
Know Your Caregivers
All of our employees and physicians are expected to wear a hospital ID badge. Please feel comfortable asking for your caregivers' name and position if they don't introduce themselves. If at any time you question the purpose of someone's visit to see you, please share your concerns with your nurse, immediately.
We Are Here to Help
If you have questions or concerns regarding the care you are receiving, please talk to the staff. They are here to help you understand your medical care and make you feel as comfortable as possible.
At any time, day or night, you may dial "0" and ask the switchboard to page the nursing supervisor to help you address any unresolved issues.
Your Test Results
Although waiting for test results can be stressful, we want to ensure that you receive the results from the person who can best answer all your questions – and that person is your doctor. He/she knows your medical history and can best explain how the results affect your care and treatment options.
Medications
During your hospital stay, all medications prescribed for you by your doctor are supplied by the hospital pharmacy. Unless special arrangements have been made by your physician, you should not have any other medications in your room. If you do, please send them home with a family member or give them to a nurse for storage in the pharmacy. At the time of your discharge from the hospital, please advise the nurse about any medication stored for you so it can be returned to you. Any medication left behind by a patient will be disposed of by the hospital pharmacy.
If you need to have prescriptions filled after you have been discharged, we can deliver them to your room through our "Meds to Beds" program to save you time. The Pharmacy is open 9:30 a.m. to 5:30 p.m. Monday through Friday.
Protecting Your Privacy
To protect your privacy, we ask that you designate one family member/friend with whom we can share information about your care.
Going Home
The uncertainty of not knowing when you can go home is one of the most frustrating issues for patients. Although we start planning for your discharge when you are admitted to the hospital, it is challenging to provide an exact day and time because the healing process can be unpredictable. Your attending physician will make the decision to discharge you from the hospital when he confirms that you are responding to treatment with little risk of relapse.
Discharge Planning
Once the decision is made, it may take up to two hours or more to complete the discharge process. Your healthcare team will work together to complete all the necessary paperwork, address your social services concerns, and prepare your discharge instruction so you have all the information you need to continue the healing process after you leave the hospital.
Through discharge planning, we help you coordinate the care you require after you leave the hospital. The discharge plan addresses follow-up medical care, as well as medications and dietary needs.
Personnel are available Monday-Friday 7:30 am – 4 pm to assist patients and their families with discharge planning needs. Questions concerning Medicare/Medicaid, community services, home care equipment and nursing homes can be addressed. If you feel we can be of help, notify your nurse who will contact the Social Services department with a referral.
If you choose to leave the hospital before your doctor authorizes, you must sign a statement assuming full responsibility for your action.
For your safety, a family member or friend must escort you home after your hospitalization.