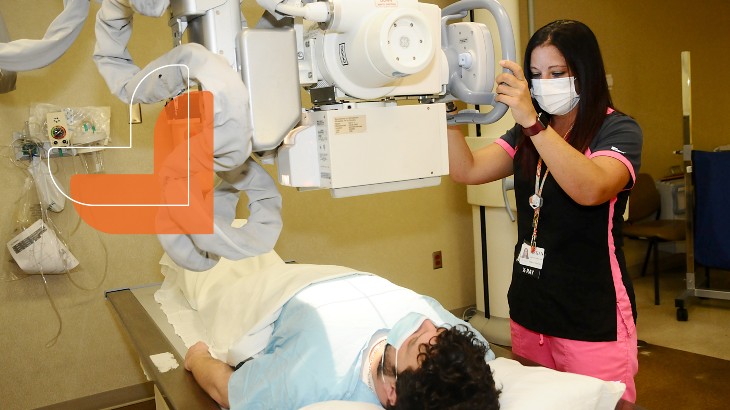 Advanced Technology Exceptional Care
At Rome Health, we bring together specially-trained radiologists, advanced technology and skilled technologists to provide your physician with information to make an accurate diagnosis.
Our board certified radiologists received their training at major medical schools such as Harvard, Duke, Lahey Clinic, SUNY Health Sciences Center and Tufts, with additional expertise in radiological sub-specialties such as abdominal, neuroradiology, musculoskeletal and breast MRI.
In addition to providing 24-hour care for our patient care units and the Emergency Department, the Medical Imaging Department offers outpatient testing in our new Diagnostic Center. We've created a warm, calming atmosphere to help our patients feel more at ease when they come for routine screenings or diagnostic testing. Our goal is to minimize patient anxiety every step of the way.
We created a special place for women within the Medical Imaging Center for added privacy and comfort. The Women's Imaging Center has a separate waiting area and private corridor for easier access and convenience when you have multiple exams scheduled in one visit.
Convenient parking is available in the parking lot located off of East Oak Street. Patients enter under the Diagnostic Center canopy and take the elevator or stairs directly into the registration area.
Medical Imaging Services


Fluoroscopy is a specialized x-ray that uses contrast material to view the gastrointestinal tract to diagnose ulcers, tumors, blockages or other problems.



CT Scan provides more detailed images of internal organs, bone, soft tissue and blood vessels. It is a common diagnostic tool for many medical conditions, such as stroke, cancer, internal injuries or appendicitis.
At Rome Health, we're doing everything we can to reduce radiation dose, while still giving your doctor the highest quality CT images to make a confident diagnosis. We were the first hospital in our region to invest in the only FDA-approved system that can reduce radiation dosage by up to 40%.

Ultrasound uses sound waves to examine the heart, blood vessels, gallbladder, abdominal organs, kidneys, prostate, breasts, thyroid and pelvis. The 4D ultrasound technology can capture movement inside the body, such as the heart beating or blood flowing through the vessels.

Nuclear Medicine uses gamma cameras to trace small amounts of radio-active material injected into the body to produce its images. Bone scans are commonly ordered to detect arthritis, fractures, infections, tumors and unexplained causes of bone pain. Other studies include the heart stress test and scans of the gallbladder, thyroid and kidneys.

High Definition MRI delivers outstanding image clarity for the most accurate diagnoses possible. MRI technology uses computers and magnetic fields, rather than x-rays, for neurological, vascular, musculoskeletal and breast exams.
Women's Imaging Services

Obstetric Ultrasound gives mom her first look at the new baby growing inside her. It is commonly used to estimate the due date and assess the baby's growth, well-being and position. We put your baby's ultrasound images on a CD so you can easily share them with family.

Bone Densitometry is a simple scan is used to measure bone loss to diagnose osteoporosis and before a debilitating fracture occurs.

3-D Mammography has been proven better at locating breast cancers while they are still small and more easily treatable, and 3D images allowing radiologists to better pinpoint the size, shape and location of breast abnormalities for women of all ages and breast densities.

Breast MRI uses a powerful magnetic field and a computer to produce more detailed pictures of the breast. The American Cancer Society recommends routine breast screening with MRI for women who are at higher risk of breast cancer.

Breast Ultrasound uses sound waves to help diagnose breast abnormalities detected by a physician during a physical exam and to characterize potential abnormalities seen on a mammogram.

Image-Guided Breast Biopsy provides a non-surgical approach to diagnosing breast disease. The radiologist uses ultrasound, MRI or digital mammography to get a clear picture of the suspicious area so a sample can be taken through a needle.
The same level of privacy and expert care is also provided to men, who may need diagnostic testing for breast cancer. Although breast disease is most common in women, men can get breast cancer, too. It's especially important for men to talk to their doctor if they notice any unusual signs or symptoms, such as a breast lump, since men don't have routine mammograms.
Accreditations & Appointments
Rome Health's Women's Imaging Center, is an American College of Radiology (ACR) designated Breast Imaging Center of Excellence.
Rome Health has also achieved ACR accreditation for mammography, ultrasound, breast ultrasound, vascular ultrasound, stereotactic breast biopsy, computerized tomography (CT), Magnetic Resonance Imaging (MRI), and nuclear medicine imaging.
With a physician's order, appointments for medical imaging services may be made by calling Centralized Scheduling at (315) 338-7338.
Medical Imaging Scheduling
1500 N. James St. Rome, NY 13440