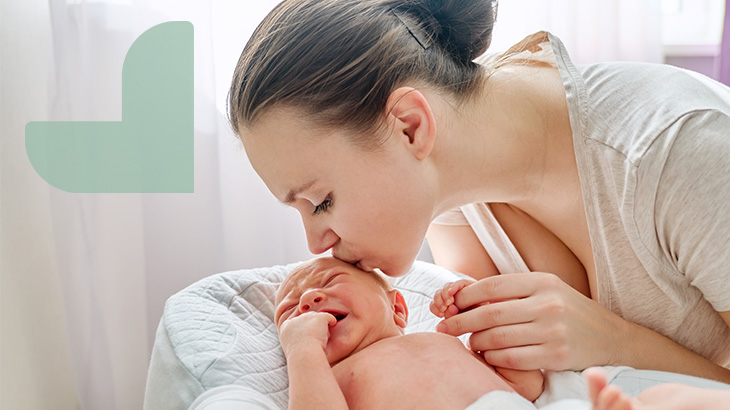 The Best Maternity Care Out There
Few events in life generate as much excitement for a family as the birth of a child.
Having your baby at Rome Health means you will have the reassurance of an experienced and caring staff with you every step of the way during labor and delivery.
In 2021, we were one of only two hospitals in New York State to be rated a "Best maternity Hospital" by Newsweek and Leapfrog. U.S. News & World Report names Rome Health as a 2022-2023 High Performing hospital for maternity Care. Our C-section rate is among the lowest in the region, and our team is committed to giving healthy moms and babies the time and support required for a natural birth.
Our Providers Deliver the Best
Rome Health Obstetrics & Gynecology
 C. Nicole Pineau, MD | John Lovier, MD | Casey Kilbourne, NP | Alexandra Jarrett, NP | Kaelyn Pillmore, NP | 
Mohawk Valley Women's Health Associates
  Lauren Giustra, MD | Ankur Desai, MD 
Rome Health Prenatal Care Center
  C. Nicole Pineau, MD | John Lovier, MD 
Personalized Care
Our cozy birthing suites have birthing beds with state-of-the-art medical equipment that is easily accessible but concealed from view.
Innovative birthing techniques are available to help you through labor. You can sit on a birthing ball or stool to foster the labor process through natural positioning. The ball is particularly effective in reducing tension in the back, allowing you to sway side to side, forward and back, and round and round to aid in making you more comfortable.
If you choose to receive it, pain control is available. You have several options for pain control during labor including epidurals, nitrous oxide or other medications available through injection. With an epidural, the pain is virtually blocked during labor, but you still maintain muscle control for the baby's delivery.
After your delivery, we encourage you and your newborn to stay together in the same room for a better bonding experience. Rooming in has multiple benefits for you and your newborn including facilitating breastfeeding and providing you with the opportunity to learn to care for your baby's needs while staff is around to help. The Maternity Unit is equipped with a state-of-the-art security system with surveillance cameras to keep you and your baby safe.
For their own comfort during a mother's labor, fathers, partners and labor coaches may request a reclining lounge chair that opens into a bed. Fathers, partners and labor coaches are encouraged to be an active participant in the birthing experience.
We're Here to Help
Our nursing staff has years of experience as health care professionals, and in many cases as parents themselves. They are committed to providing personal attention to help new parents gain confidence in their infant care skills.
Lactation consultants are on staff to help you with any breastfeeding questions. Breastfeeding support is provided even after delivery. The lactation consultant is available to weigh your newborn, answer your questions and offer you encouragement. The first weigh station appointment can be made when you are discharged.
In addition to bedside teaching, videos are available on many topics including breastfeeding, infant care, and CPR to view while you are still in the hospital.
Need a Pediatric Provider
Rome Health Pediatrics' is here to to help you care for your baby right form the start. Located in the new Medical Center, our team of pediatric providers will guide you to help make the best decision for your child. To learn more or to make an appointment call (315) 338-7040 
Class Schedule for New Parents
Virtual options available.
---
Baby Care Basics
 Tuesdays from 5:00pm to 7:00pm. Classes held at 155 W. Dominick St.
Parents-to-be can learn about newborn care and other related topics.
Jan. 23, 2024
March 19, 2024
May 14, 2024
July 9, 2024
Sept. 3, 2024
Oct. 29, 2024
Nov. 17, 2023
Dec. 19, 2023
---
Feeding Your Newborn
Tuesdays from 5:00pm to 7:00 pm. Classes held at 155 W. Dominick St.
Learn about your baby's nutritional needs, feeding by breast or bottle and other hand feeding methods. Other education includes how to store breast milk, sterilize bottles and prepare formula. All welcome regardless of feeding choice.
Jan. 23, 2024
March 19, 2024
May 14, 2024
July 9, 2024
Sept. 3, 2024
Oct. 29, 2024
Nov. 17, 2023
Dec. 19, 2023
---
Childbirth Classes
Tuesdays from 5:00pm to 7:00 pm. Classes held at 155 W. Dominick St.
Three-week course to prepare parents for labor and delivery.
Jan. 9, 16
March 5, 12
April 30
May 7
June 25
Aug 20, 27
Oct. 15, 22
Dec. 5, 12