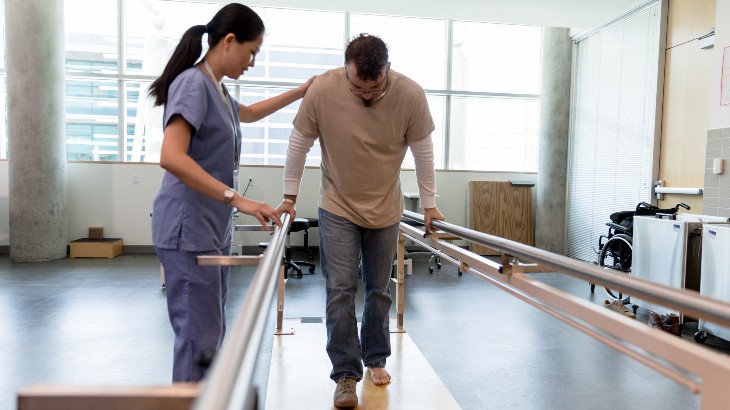 Return to a Better Quality of Life
Occupational therapy helps you regain the ability to perform the three basic occupations of life, self-care, work and leisure. Our therapists help to improve your typical daily activities, such as cooking, cleaning, and self-care, which may have become difficult due to illness or injury. Through occupational therapy, you can regain some of those skills and abilities and enjoy a better quality of life.
Occupational therapy services are available at Rome Health through our continuum of care, from acute care to short-term inpatient rehabilitation and on to outpatient rehabilitation. Our staff strives to deliver consistent quality healthcare services to the patients we serve. We monitor our patients' outcomes and satisfaction with our care. When we compare our statistics with other occupational therapy programs, our results are as good as or better than similar programs.
What can you Expect?
Your occupational therapy begins with a comprehensive evaluation to determine your current level of occupational functioning. Your treatment plan will address dysfunction due to deficits in normal daily activities, sensation, and cognition.
Occupational therapists work individually with each patient to concentrate on what matters most to them. We strive to help:
Set and achieve goals
Function at the highest possible level
Maintain or build their independence
Adapt activities and the environment to their level of ability
Participate in the everyday activities that are an important part of enjoying life
Treatment Available
Rome Health's occupational therapists are qualified to treat individuals with:

Neurological Impairment
Cerebrovascular Accident (CVA/stroke)
Parkinson's Disease
Multiple Sclerosis
Progressive Muscular Atrophy (PMA)
Amyotrophic Lateral Sclerosis (ALS)
Brain Injuries
Spinal Cord Injuries
Developmental Disorders

Orthopedic Needs
Fractures
Tendon injuries and repairs
Nerve injuries and repairs
Repetitive motion injuries
Arthritis (Osteo and Rheumatoid)

Interventions Provided
Activities of daily living
Range of motion
Adaptive equipment
Assistive technology
Functional mobility
Therapeutic Modalities
Rome Health's occupational therapy program is available with a doctor's referral. To benefit from our services, patients, social workers, case managers or family members should initiate the discussion with their primary care physician.
Rome Health Outpatient Rehabilitation Services
We participate with most insurance plans, including Medicaid, Medicare, Tricare and Workers' Compensation.
Occupational therapy is covered by most major medical insurance carriers, including Medicare and Medicaid.