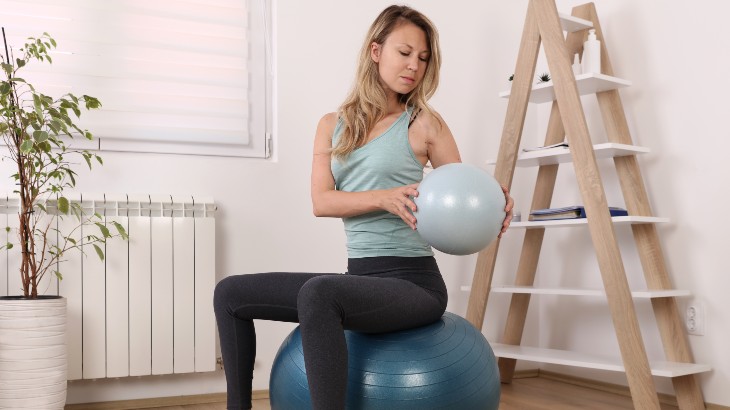 Providing Help to Women with Pelvic Floor Muscle Dysfunction
Weakened or impaired pelvic floor muscles can be a result of aging, after childbirth, or illness. Dysfunctions involving the pelvic floor muscles can contribute to incontinence, chronic pelvic pain, and sexual dysfunction. Pelvic floor rehabilitation is a non-surgical approach designed to help women strengthen the muscles of the pelvic floor, to identify the source of pelvic pain, or to improve or resolve conditions such as stress or urge urinary incontinence, chronic constipation.
Rome Health Outpatient Rehabilitation Services, Patricia Dispirito, PT, DPT, Hayley Lawrence, PT, DPT, CLT, and Julia Downing, PT, DPT are providing pelvic floor rehabilitation at Rome Health Outpatient Rehabilitation Services in Chestnut Commons, 107 E. Chestnut St., Rome. 
Patricia Dispirito, PT, DPT
Pelvic training has included Herman and Wallace, Janet Hulme, PT, Beth Shelly, PT and numerous continuing education courses over the years.
Joined Rome Health in 2018
Received a bachelors in  Physical Therapy degree from The University of Florida and Doctorate of Physical Therapy from Utica College
Hayley Lawrence, PT, DPT, CLT
Training is through APTA  (American Physical Therapy Association)
Joined Rome Health in 2016
Received Doctorate of Physical Therapy from Utica  College
Julia Downing, PT, DPT
Training is through The Institute of Clinical Excellence

Joined Rome Health in 2019

Received Doctorate of Physical Therapy from Utica College
Our Patients Include Those That Are:
Prenatal and Postpartum
Post-Surgery (abdominal, pelvic, spinal) as well as nonsurgical patients
Athletes who develop issues with long-distance and lifting activities
Individuals who develop any of the above symptoms with everyday activities whether or not they are going though menopause or have had surgery.
Our pelvic health program addresses urinary and bowel dysfunction including urgency, frequency , leakage, constipation,  and pain (back, hip, pelvic), pelvic  organ prolapse, painful intercourse, among other conditions.  Physical Therapy for the pelvic floor is well supported in the literature and addresses a varied population.
At Rome Health Outpatient Rehabilitation Services we evaluate and treat women with weakness and overactivity of the pelvic floor, assess the influence of the back, hips, legs, breathing, body mechanics, lifestyle and stress on the pelvic floor. Therapy for incontinence and chronic pelvic pain could include behavioral strategies such as functional retraining, bladder retraining, and dietary and fluid modification.Our approach includes education, manual techniques, stretching, strengthening, proper breathing and body mechanics  and working towards their individual goals.
The pelvic floor's skeletal muscles are part of the body's "core", which can become weak, tight, or spastic. This can cause impairment as the pelvic floor provides support to your pelvic, reproductive, and urinary organs. Pelvic pain and elimination dysfunction can improve as the therapist helps patients strengthen and retrain the pelvic floor muscles, and ultimately improve an individual's overall quality of life.
Pelvic floor rehabilitation has proven to be effective for patients experiencing:
Accidental leakage of urine when coughing, sneezing or with exertion
The need to urinate frequently or sudden, uncontrollable urge to urinate
Pain in the pelvic region
Organ prolapse
Pre-and post-partum related issues including back pain, diastasis recti (separation of the abdominals) and sciatica
Scar tissue concerns
Colorectal conditions and constipation
Sexual dysfunction
Core Strengthening
A physician's prescription is required to make an appointment to see a therapist for pelvic floor rehabilitation. The therapy is covered by most major medical insurance carriers, including Medicare and Medicaid.
For more information, contact:
Rome Health Outpatient Rehabilitation Services
 107 E. Chestnut St., Rome Rome, NY 13440