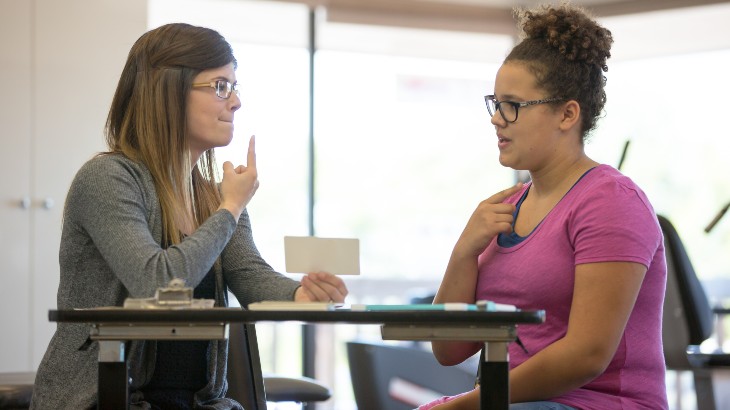 Opening the Door to
Better Communication
Rome Health's Speech Therapy Department assesses and treats:
Speech/voice disorders
Cognitive deficits
Swallowing dysfunction
Pediatric speech, feeding, swallowing and voice disorders
Fluency disorders
The speech-language pathologists are integrated members of our healthcare team. Their expertise is available for hospitalized patients in our acute care units, residents of the skilled nursing facility, as well as adults and children who need outpatient speech and swallowing/feeding therapy services. Outpatient pediatric speech evaluations and therapy from birth through geriatrics.
Breaking Down Barriers
While speech-language pathologists are best known for their work with children, their expertise can help adults preserve their quality of life.
The effects of aging, disease or surgery can cause muscle or neurological weakness that can hamper your ability to communicate, think clearly or swallow.
Through assessment, treatment and education, Rome Health's experienced speech-language pathologists can help you or a loved one speak more clearly and have better cognitive and swallowing functions.
Speech and Voice
Clear speech requires the coordination of the lips, tongue, voice box and lungs. If any of these structures are weakened, your speech may become difficult to understand. For example, if the tongue, lips or voice box are weakened by a stroke, there's a decline in articulation and speech will sound slurred.
Decline in the ability to communicate normally can also occur with changes in vocal quality, such as hoarseness, decreased volume, pitch changes and loss of voice.
Speech-language pathologists work with you to understand, compensate for and improve your speech and/or voice to enhance your ability to communicate.
Cognition and Communication
A decline in the ability to process information can also make it difficult for you to express yourself, be understood and understand others. Cognition refers to the way we think, how we learn and how we remember. Dementia, stroke and other illnesses can impact important cognitive skills, such as concentration, memory, language, problem-solving, and reasoning. A decline in cognitive skills can limit or prevent effective communication.
Some common signs that there's been a decline in the ability to communicate include:
Difficulty with word recall
Substitution of words, sometimes with non-words
Confusion
Difficulty understanding and following instructions
Increased repetition of words
Speech-language pathologists help you strengthen your cognitive skills, while providing adaptive tools to break through the communication barriers and reduce frustration.
Swallowing Problems
Swallowing is one of those things that we take for granted until there's a problem. Aging, stroke, brain injury, surgery, neurological disease, or injury to the throat can weaken the structures that allow us to swallow effectively.
Swallowing problems can significantly impact a person's health and quality of life. If food or liquid slips into the airway, you can develop pneumonia. Just the effort spent on coughing can deplete your energy. Often, if you're having difficulty swallowing, you may eat and/or drink less, possibly resulting in dehydration and malnutrition.
Some of the signs that may indicate a swallowing disorder include:
Coughing or throat clearing while eating or drinking
Runny nose, sneezing and watery eyes
Excess secretions in the mouth
Chest congestion
Frequent /recurrent respiratory illnesses
Videofluorscopy swallow studies, conducted in the hospital's Medical Imaging Department, provide diagnostic information to help access swallow function.
Speech-language pathologists provide assessments, therapy and recommendations for diet/liquid consistency changes; swallow precautions, exercise programs and education to prevent aspiration, dehydration and weight loss.
Rome Health Outpatient Rehabilitation Services
 107 E. Chestnut St. Rome, NY 13440
We participate with most insurance plans, including Medicaid, Medicare, Tricare and Workers' Compensation.