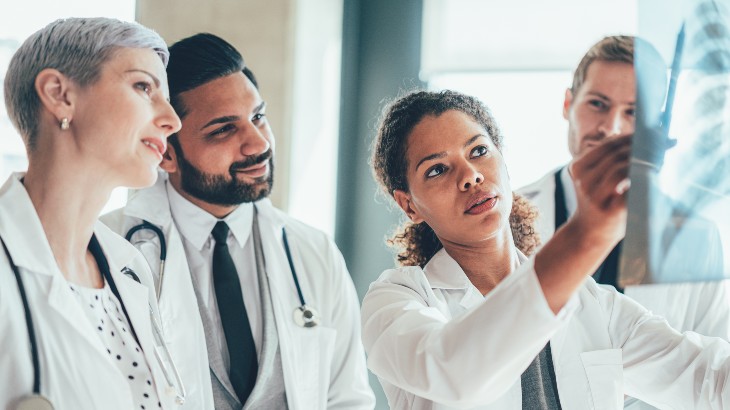 Service Excellence Starts With Basic Standards
At Rome Health, we are motivated to succeed because of the people who place their trust in our care. We are a community hospital. Our patients are our friends and neighbors. They are members of our own families. For them, we pursue our mission to provide quality healthcare with compassion.
Toward that end, we have developed a set of customer service standards for all of us to follow. Before applying for a position at Rome Health, please review our "Standards of Behavior."
These standards establish specific behaviors that we are all required to practice while on duty. Most of these behaviors are demonstrated instinctively because we are conscientious and caring people.
Quality by Design
Standards of Behavior
Make Great First Impressions

Acknowledge visitors and customers; greet each person in a way appropriate for the situation. Make eye contact; wear your name badge where it's easy to read. Introduce yourself. If someone looks lost or confused, stop and ask, "How may I help you?" Escort them, if possible, or provide a resource to help them reach their destination. Remember, our reputation is on the line. In all communications, create a polished and professional first impression. Answer the telephone with a smile, identify your department and yourself to the caller. Always use good telephone etiquette.

Care And Concern

Anticipate what people want before they ask, rather than simply reacting. Actively listen to what people are saying:

Sit with patient/family, stop doing other tasks
Establish comfortable eye contact
Communicate positive body language
Paraphrase what you have heard to confirm understanding
Reassure them that what they are saying is important
Follow up on requests and promises

Treat each customer as if meeting his or her needs is the most important thing you have to do that day. At the end of each patient encounter, ask: "Is there anything else I can do for you before I leave?"

Respect Others' Dignity & Confidentiality

Watch what you say and where you say it. Discuss personal activities, hospital business and patient issues in private. Don't gossip. Be mindful of the potential impact on those who may overhear your conversations. Knock before you enter patients' rooms. Acknowledge privacy. Say: "Your dignity and privacy are important." Ask: "How would you like to be addressed?"

Be A Team Player

Trust, respect, support and assist your co-workers. Ask teammates, "How may I help you?" "Am I giving you what you need?" Get to know what other teams need and want. Look for ways to combine and share resources. Speak positively about other team members and departments. Show respect for teammates by being open, honest and direct. Address conflict professionally. Assume good intent; always believe the best about your teammates. Share praise and appreciation. Make sure your individual actions contribute to team and organizational goals. By helping each other, we help our patients. Remember, patients judge the quality of the care they receive by observing how we all treat one another.

Communicate, Communicate, Communicate

Explain our procedures, policies and systems in positive terms that customers can understand. Explain any delays – always keep people informed on a timely basis. Be proactive with information. When possible, provide written instructions. Show empathy; paraphrase and use open-ended questions. Ask, "What questions do you have for me?" and "Is there anything else I can do for you?" to check understanding and elicit needs. Say, "Thank you."

"WOW" Our Customers: Go The Extra Mile

When confronted with a challenge, take ownership and stick with it until the issue is resolved to the customer's satisfaction. Take responsibility for problem solving. When someone needs assistance, take action to solve the problem and strive to exceed expectations. Adopt a "can do" attitude. Respond to a request as soon as possible. Set timeframes for follow-up or response. Communicate those and agree (e.g. "It will take me about 10 minutes to address your concern – is that okay?"). If you find that the agreed-upon timeframe is not sufficient to resolve the issue, return to the individual and update him/her on your progress. Always follow through!

Initiate Quality Improvements

Add your value to the organization by initiating and participating in performance improvement activities. Offer suggestions and be open to new ideas and new ways of doing things. Use customer information and feedback to improve processes and to reassess results. Seek to discover and eliminate waste. Give and accept honest feedback. Create a safe environment that supports learning. Identify, emulate and celebrate best practices throughout the organization.

Act Like An Owner

Show pride in your team and in our organization. Speak highly of the work you and others do. Take initiative to make things better. Make and implement suggestions to improve service; share your successes. Get involved; demonstrate loyalty. Assume responsibility and embrace change. Stay informed about our services. Utilize resources and treat hospital property as if it were your own. Expect the best – don't settle for second-rate performance. Make personal growth and growth of your colleagues a priority. Be a winner. Celebrate successes!

Be Professional – Look and Act Your Best

Be mindful of the impression you create by your appearance. Dress professionally for your position. Wear clothes that fit and are clean. Avoid excessive jewelry, perfume/cologne or make-up. Maintain good personal hygiene. Always introduce yourself and your role too! Our customers want to know who you are and what you do. Never use profanity while on duty.

Keep It Quiet

Shhhh! Remember, we are a healthcare environment. Speak in soft tones whenever possible and remind others to do the same. Do everything you can to reduce noise in all patient areas:

Respond quickly to "call bells"
Leave pagers on "vibrate"
Repair/report noisy equipment
Soften lighting to create a peaceful mood

Our patients need their rest to aid in their recovery.