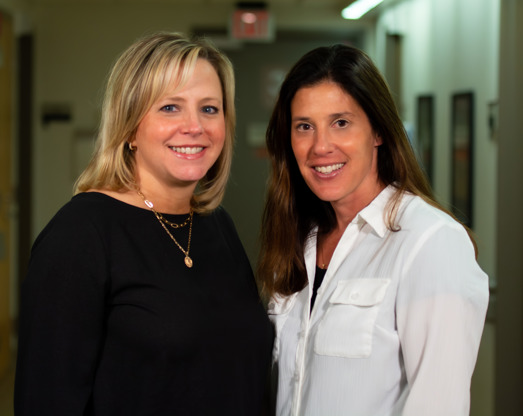 Rome NY -  Two nurses in Rome Health's Breast Imaging Center of Excellence have earned the designation as certified breast health clinical navigators for their skill and competency to navigate patients through the breast patient's cancer continuum of care.
As certified breast health clinical navigators, Kelly Pietryka, RN, NC-BC, BHCN and Jennifer Shepherd, RN, BSN, BHCN, assist patients in accessing care and navigating health care systems. They support patients through advocacy, education, coordination of care and continued assessment of barriers and needs.
With 28 years of nursing experience, Pietryka initially joined Rome Health in 2006 and the Women's Breast Center at Rome Health in 2022 with an extensive nursing background in radiation oncology, medical oncology, plastic surgery and health coaching. She is also a board certified nurse health coach which helps to enhance our patient's health and wellness.
Shepherd joined the hospital in 2004 and has 22 years of nursing experience. She has extensive experience in all aspects of nursing in Medical Imaging from coordinating and assisting patients in all type of minimally invasive biopsies, and navigating radiology patients. This experience has helped guide the path for many of our imaging patients.
"Because of their experience, Kelly and Jennifer understand the healthcare system to help patients better understand each step of the process as they begin their journey to wellness," said Medical Imaging Director Sharon M. Carson RT(R)(M). "The ability to communicate to patients exactly what to expect when undergoing a procedure helps reduce anxiety, allowing them to become an informed and active participant in their treatment plan."
Not every abnormal imaging finding ends up being a serious diagnosis, but it can be a very anxious time. The navigator is that ongoing consistent point of contact for patients so they understand exactly what is happening each step of the way.
Breast health clinical navigators work with each patient individually when an abnormal finding is present on breast imaging. Working closely with the radiologist and the referring physician, navigators guide patients through the process by explaining clinical information, treatment options, and next steps in everyday language.  
They will also help coordinate the care team beginning with the radiologist and referring provider, adding surgical services and other resources as necessary to ensure that every patient receives the most coordinated and advanced care possible.     
Rome Health's Breast Center is accredited by the American College of Radiology as a Breast Imaging Center of Excellence and participates in the National Quality Measures for Breast Centers program, as evidence of its commitment to provide each patient with the highest quality of care. 
For more information about Rome Health's Breast Imaging Center of Excellence, please call 315.338.7389 or 315.338.7556.
---
About Rome Health
Rome Health is a non-profit health care system based in Rome, N.Y., providing services to patients throughout Central New York. From primary and specialty care to long-term care, Rome Health delivers quality, compassionate medical care for every stage of life. We are a comprehensive health care system that connects you to the best clinicians and the latest technologies so they are easily accessible to you and your family. Rome Health is an affiliate of St. Joseph's Health and an affiliated clinical site of New York Medical College.