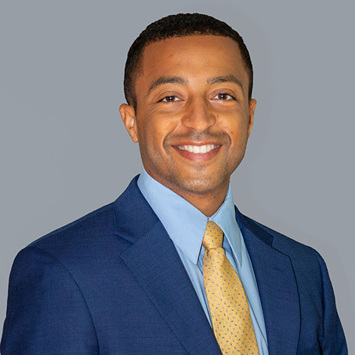 Dr. Kyle Angelicola-Richardson specializes in hand and upper extremity procedures

Rome Health has welcomed Rome native Kyle Angelicola-Richardson, M.D., to its Orthopedic & Sports Medicine practice.  
Dr. Angelicola-Richardson specializes in treating injuries and disorders affecting the hand and upper extremity, including the shoulder, elbow and wrist.  From recommending simple stretches and therapy to surgery, his goal is to relieve pain and restore functionality.  He treats conditions such as trigger finger, carpal tunnel syndrome, tennis elbow or a torn rotator cuff.
Born and raised in Rome, Dr. Angelicola-Richardson earned his medical degree at SUNY Upstate Medical University in Syracuse.  He completed his residency in orthopedics at Albany Medical Center, where he trained in a high volume level 1 trauma center treating acute traumatic injuries, as well as complicated issues throughout the different specialties.  He advanced his training with a clinical fellowship in hand surgery at Columbia/New York Presbyterian.
Dr. Angelicola-Richardson grew up in Rome playing baseball. He was a three-time all-star at Rome Free Academy, a standout at Mohawk Valley Community College  where he earned an NJCAA Scholar Athlete of the year and he was twice named Oneida County American Legion Baseball Player of the Year.  Just before medical school, he played professional baseball in New Mexico for a short stint.  He was always working on his game to be the best and it's the same philosophy he's carried into medicine.  
"With playing sports, I have always been very interested in sports injuries and rehabbing them," Angelicola-Richardson said, explaining that his mother was a nurse practitioner and influenced his decision to go into medicine and care for people.  He is excited to be returning to his hometown to enhance access to care locally.
"There has always been a big need here for orthopedics, especially for a specialist in hand and upper extremities. I am looking forward to fill that void," Dr. Angelicola-Richardson said. "I am also interested in getting out into the community and teaching people about medicine and getting young people interested in medicine early as well."
Dr. Angelicola-Richardson is now accepting appointments for new patients.
Call Rome Health Orthopedic & Sports Medicine's office at 315.338.9200.
Rome Health Orthopedics & Sports Medicine office is located at 107 E. Chestnut St., Suite 106 in the Chestnut Commons building.  Effective Nov. 6th, the practice will be relocating to the Medical Center on the hospital's main campus.
---
About Rome Health
Rome Health is a non-profit health care system based in Rome, N.Y., providing services to patients throughout Central New York. From primary and specialty care to long-term care, Rome Health delivers quality, compassionate medical care for every stage of life. We are a comprehensive health care system that connects you to the best clinicians and the latest technologies so they are easily accessible to you and your family. Rome Health is an affiliate of St. Joseph's Health and an affiliated clinical site of New York Medical College.