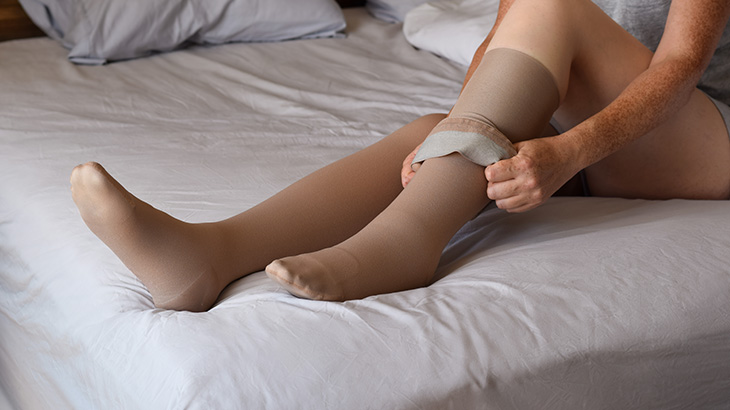 Feel Better Enjoy Life
Rome Health provides a comprehensive program for the evaluation, treatment, and management of lymphedema.
Lymphedema therapy can benefit patients with swelling as a result of cancer treatment, diabetes, obesity, venous insufficiency, DVT surgery, or other diseases or injury.
The therapy program, known as Complete Decongestive Therapy, consists of four components designed to reduce swelling, maintain the reduction and improve quality of life. It includes:

Skin Care
Skin inspection, cleansing, and rehydration to maintain and improve the skin's integrity.

Manual Lymph Draining
This massage technique is used to improve lymph flow and soften fibrotic tissues.

Compression Bandages / Garments
Use of a series of short stretch bandages prevent fluid return following massage. Custom garments provide support following completion of the program.

Therapeutic Exercise
Improves flexibility, strength, and facilitates return of lymph fluids to system.
The Individual Care and the Attention Patients' Deserve
Our therapists possess the professional training required to provide high quality care and the compassion to help lessen patients' anxiety during treatment. They provide each and every one of their patients the individual time and attention they need and deserve.
What to Expect
The key to successful treatment is compliance with the program. It is important for patients to receive treatment on a daily basis during the intensive phase. Treatment sessions are typically 60-90 minutes Monday – Friday for four to five weeks.
The first visit will include education to help you better understand lymphedema and how to maintain results at home following therapy. Compliance with custom compression garments prevents the swelling returning, and maintains the results of therapy.
How to Make an Appointment
A physician's prescription is all that is needed to make an appointment for Rome Health's Lymphedema Therapy program now located in Rome Health Outpatient Rehabilitation Services.
Lymphedema therapy is covered by most major medical insurance carriers, including Medicare and Medicaid. Extended payment plans are available to assist patients with their co-payments. Compression bandages are generally not covered by insurance plans.
Rome Health Outpatient Rehabilitation Services
 107 E. Chestnut St. Rome, NY 13440