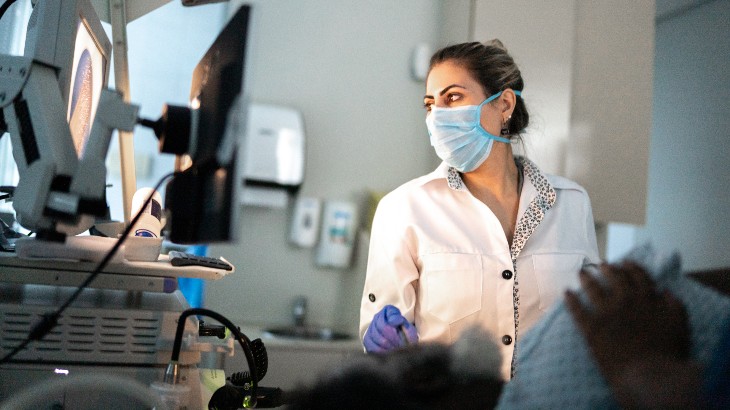 Routine Screenings Can Save Your Life
Colon cancer is one of the most common cancers in men and women. It is also one of the most preventable through routine cancer screenings. It is estimated that as many as 60% of colorectal cancer deaths could be prevented if all men and women aged 50 years or older were tested, according to the Centers for Disease Control and Prevention. Colonoscopy can reduce the risk of colon cancer by finding and removing growths known as polyps before they can turn into cancer.
Testing to look for colon cancer and other gastrointestinal problems are performed in the Endoscopy Suite at Rome Health. These procedures, performed with patients under mild sedation, can identify ulcers, bleeding, tumors, polyps, diverticulitis or other stomach and intestinal disorders.

The types of testing offered include:
Colonoscopy
Upper Endoscopy
Endoscopic Retrograde Cholangiopancreatogram
Flexible Sigmoidoscopy
Appointments for these tests may be made by a referral from your primary care physician to a gastroenterologist who specializes in these procedures.
What to Expect
Prior to your scheduled testing, you will receive specific instructions on the preparation for your procedure from your gastroenterologist. Your test may require you to fast or adhere to a special diet for a period of time prior to the procedure, and/or take laxatives or an enema to assure that the area being looked at by the doctor is clear.
On the day of the procedure, you will report to the hospital's Patient Access Department. After you are registered, a transporter will escort you to the Endoscopy Suite on the second floor where you will undergo the procedure and rest until the sedative wears off. Once you are ready to go home, you will need to have someone there to drive you or accompany you home if using public transportation. It is also necessary for you have someone stay with you for the remainder of the day.
Pre-Procedure Nursing Interview
Once we receive your information from your surgeon's office:
We will contact you to schedule a pre-procedure nursing interview either in person or over the telephone.
A registered nurse will review your information to ensure that your healthcare team understands your medical history and current health care status.
Please answer all questions thoroughly and honestly so our physicians and staff can take the best care of you and keep you safe.
Here is a checklist to prepare for the interview. Tell us about:
Allergies (medications, latex, surgical glues, etc.)
Prescription medications
Over the counter medications, including aspirin
Herbal remedies, vitamins and supplements
Tobacco and alcohol use
Marijuana use (recreational or medical)
Recreational drugs
Medical/surgical history
Prior experience with anesthesia